Connie Queen Elsa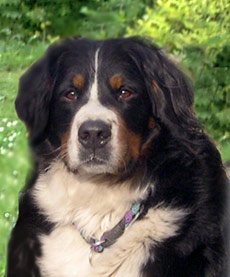 *16.5.2004
Mother: Ambra z Milešovské salaše
Father: ICh. Certo z Deikowej Doliny (Junior Champion, PL Champion, Interchampion)
Code: 435 ALRTXZ 4r5A0
Working exam: ZOP, ZZO, ZPU1
RTG HD 0/0, ED 0/0, OCD negative
Pedigree
* May 16, 2004
Connie Puppy
- more photos are in the Gallery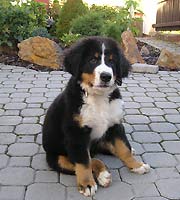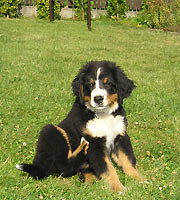 Connie is in a new home.
Winter 2005
Connie is almost a one-year dog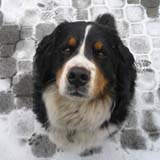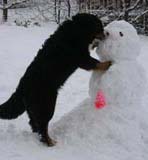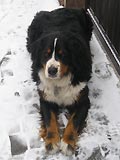 Connie loves winter and snow as probably all bernese dogs do.
Spring 2005
Club exhibition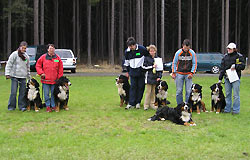 Spring 2005 in Zárybničná Lhota. Connie was one year old at that time. Almost all young dogs of C-litter from breeding station Queen Elsa participated.
2005
Exhibitions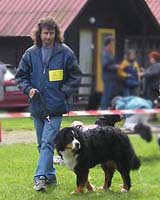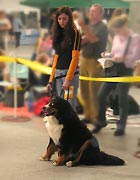 Exhibition assessments: Bitch with medium body, good frame strength with beautifully modelled head, dark eyes, good beared ears, firm back, correctly beared tail, (Very good, International Dog Show, Prague, Czech Republic, 2005). Bitch of medium body, very good in motion, with fine head, correct body, firm back line (Excellent 4, International Dog Show České Budějovice, Czech Republic, October 2005).
2006
Connie at home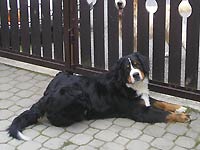 Connie guards the house, right at the fence, where her dog friend is waiting. In fact, Connie has her fiancé somewhere else.
Summer 2006
Holidays
In 2006 Connie underwent several surgical operations. Everything began with a jump from height. But in Beskydy mountains, she was without bandage, and after a long time she enjoyed huge meadows and woods.
April 5, 2007
Puppies B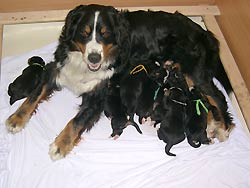 In April 2007, Connie gave birth to 9 puppies! You can see photos from every week of their life on the page Puppies. Father of our "B" puppies is Thyrass vom Aemmenmätteli from Breeding station Aus dem Irenental.
Summer 2007
Connie in the dog training camp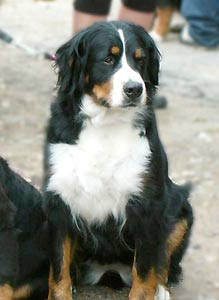 In August 2007, we spent a week in dog training camp with our all three bernese girls. Connie passed succesfully a working exam ZOP (Basic Dog Obedience).
February 22, 2008
Puppies C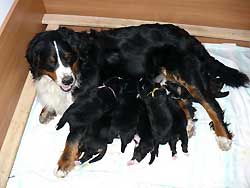 Connie gave birth to 8 puppies. Their photogallery are on the page Puppies. Father of our puppies C is Gysmo vom Kaltenborner Wäldchen.