Bára z Kubova dvora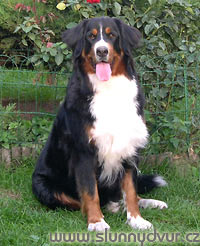 *17.5.2004
Mother: Bára ze Salašského dvora
Father: Adonis Dona Wan
Code: 535 ABGISZ 6p5B
RTG: HD 0/1, ED 0/0, OCD negative
AOD: 10 years
Working exam: ZOP, ZZO
Exhibitions: 1xCAJC - Krakow 2005, Excellent - International Dog Show Ml. Boleslav 2005, Excellent 2 - International Dog Show Katowice 2006, Excellent 4 - International Dog Show Litoměřice 2006, Excellent - Special Club Show Zárybničná Lhota 2007, Excellent - Club Show Rožnov 2008
Pedigree
Pedigree with photos and AOD
* May 17, 2004
Puppy Bára
- more photos in the Gallery (How she grow up)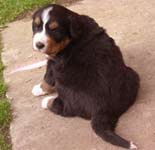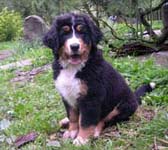 She was born on May 17, 2004, her mother is Bára ze Salašského dvora, father Adonis Dona Wan.
10.7.2004
Bára in a new home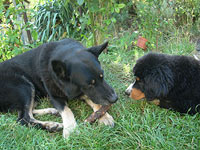 Bára came to a new home on July 10, 2004 and German shephard Benjamín became her first dog friend. She has learnt all dog skills from Benjamín - how to retrieve sticks, gnow bones, and guard the house, as well. After Ben left this world, she has taken all his responsibilities and guards her pack very carefully.
2005
Exhibitions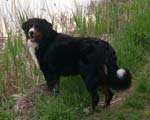 Bára obtained excellent assessments (Excellent 1, CAJC, International Dog Show Kraków, PL, 26.6.2005).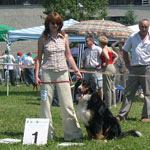 (Excellent, International Dog Show Ml. Boleslav, Czech Rep. 24.6.2005, Excellent 2, International Dog Show Katowice, PL, 26.3.2006, Excellent 4, International Dog Show Litoměřice, Czech Rep., 21.5.2006).
Summer 2006
In Beskydy Mountain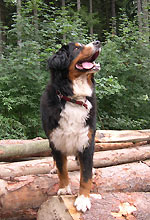 As a Bernese mountain dog, Bára loves our holidays in a cottage in Beskydy Mountain.
23.12.2006
Mother Bára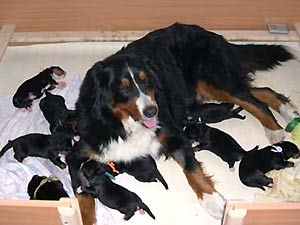 On Christmass, Bára gave birth to 10 puppies, 6 boys and 4 girls. The father is Faron Adbeco.